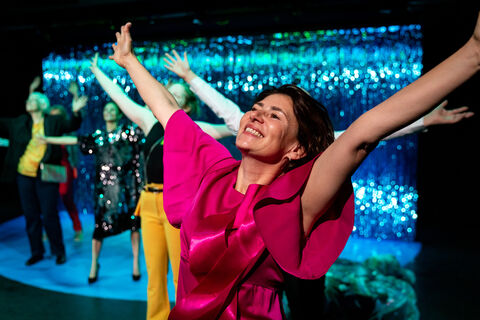 After 21 long months and countless online offers, survivors finally had the opportunity to attend a physical meeting again. The Childhood Cancer Switzerland Survivors' Centre had organised an opportunity to watch a very special play at Bühne Aarau on 14 November 2021 , followed by an aperitif.
"Krebskaraoke" was not, however, light fare. The amateur actresses, who were professionally coached and supported by Emily Magorrian, herself a survivor, and Jonas Egloff, gave the audience a deep insight into their very personal experiences with and after cancer.
Although the première was over a year ago and the Swiss tour had to be postponed several times due to the pandemic, it was well worth the wait. "Krebskaraoke" is a very special kind of play: it is loud, brassy, honest and personal at the same time, shocking and certainly very moving. After the performance, survivors and parents were keen to exchange views and impressions over an aperitif. But there was one thing they all agreed on: the topic and the different ways in which these eleven strong women have learned to deal with the disease and its consequences were very impressive and ensured there was plenty to talk about. The Head of the Survivors' Centre, Zuzana Tomášiková, was also deeply impressed by the play. As a survivor herself, she could relate to a lot of what was shown in the play and reflect on her own situation at that time.
The play, which received the Aargau Cancer League's recognition award after its première in December 2020, is due to be seen on stage in Baden in the spring, following the revival of the "home performances" in Aarau. 
Image: Chris Iseli Photography