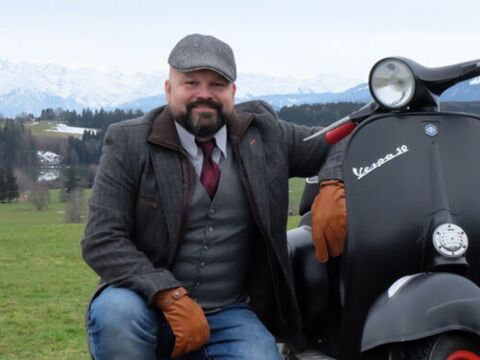 This summer, 44-year-old Markus André Mayer from Allgäu, wearing a suit and tie, started the first part of his "Gentleman Giro", a fundraising campaign for children with cancer. 
On 3 July, the starting signal was given for the "Gentleman Giro", a Vespa tour across 40 European countries to collect donations for children affected by cancer and their families. Markus Mayer wants to cover a total of 31,000 kilometres on his 50cc Vespa this year and next, collecting donations for Childhood Cancer Switzerland on his way through Switzerland.
This year's route will take him through Germany, Austria, Luxembourg, Liechtenstein and Switzerland for eight weeks. Markus Mayer is getting additional support for the donations from the numerous European Vespa clubs he will visit on his journey.
When asked about his motivation, he replies: "Why am I doing this? Because I can! Because I want to bring people together and put smiles on faces. And of course, because it is my passion to do good – and to ride a Vespa at the same time."
We hope Markus has a safe trip and wish him every success with this great fundraising campaign!