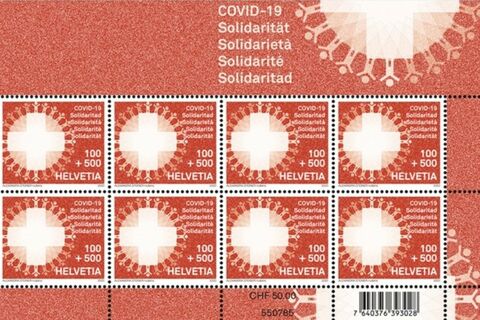 In April 2020 – in the middle of the coronavirus lockdown – Childhood Cancer Switzerland was the beneficiary of a donation from the proceeds of a great solidarity action: two passionate stamp collectors raised CHF 1,500 by trading "COVID-19 Solidarity" Swiss Post stamps. The proceeds from this campaign went to Childhood Cancer Switzerland.
 
Since the beginning of the year, the coronavirus has had an iron grip on the world. Public life and large parts of the economy were (and still are) at a standstill – also in Switzerland. Nevertheless, countless people and institutions helped to ensure basic services with their daily efforts. Swiss Post also wanted to make a contribution to solidarity during the coronavirus crisis with its own stamp. "The stamp symbolises solidarity during the coronavirus pandemic: Switzerland is our centre, while the twisted cross makes a luminous globe," writes Swiss Post.
Initiator and stamp collector
Dominik Rauber, managing director of an IT company and father of two children, loves stamps. He occasionally earns a little extra money from selling special stamps. Many years ago, he was in the children's hospital for a long time after a back operation and shared a room with children suffering from cancer who had a brain tumour. This experience has left its mark on him – and is something he has not forgotten today. That is why he came up with the idea of the "COVID-19 Solidarity" stamp auction during the coronavirus lockdown: "Since I am also a stamp collector, I bought some of these sheets through my company," he writes to us. "For us stamp collectors, it is important to have appropriate covers made like first day covers." Out of humility before life and gratitude that his children do not suffer from cancer, Rauber started the auction of the stamps for the benefit of Childhood Cancer Switzerland.
The buyer and stamp collector
Shortly afterwards, a passionate stamp collector from the canton of Aargau bought these "COVID-19 Solidarity" stamp sheets together with the corresponding covers. The initiator of the auction, Mr Rauber, had not expected this: the buyer generously rounded up the purchase price. We would like to thank both of them very much: for the wonderful "COVID-19 Solidarity" stamp auction, for their generous donation and for their solidarity with children and young people with cancer and their families. Merci!
Would you also like to support us? Then click here