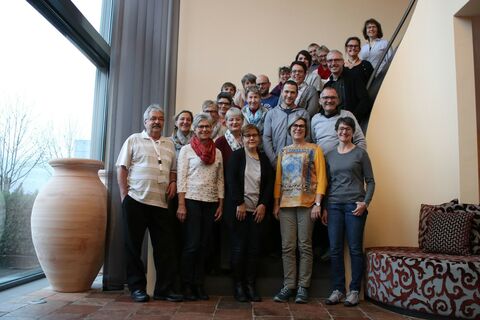 Last November, Childhood Cancer Switzerland organised a weekend for parents of survivors with late effects. This pilot project met with great interest and 20 people took part. The weekend was led by Birgitta Setz (CEO of Childhood Cancer Switzerland), Katrin Scheinemann (head physician at the cantonal hospital of Aarau – KSA) and Andreas Dörner (psycho-oncologist).
The most pressing questions were those about late effects and follow-up care, but the psychosocial aspect was also taken into account. The parents shared their fears and worries very openly. The emotional and financial burden over many years is quite demanding and a challenge in everyday life. The sharing of personal experiences in various areas, such as professional aspects, social environment, medical follow-up care, family and much more, as well as the networking opportunities within the group were extremely valuable and supportive for the further journey. Divided into groups, the participants alternated between medical and psychosocial topics. There was also the opportunity for individual discussions with the leaders. Many expressed a desire, and also the need, to have this kind of weekend again. We remain committed and hope that in time we will be able to expand the offer nationally.
A big thank you goes to the Basel Region Childhood Cancer Foundation (Stiftung für krebskranke Kinder, Regio Basiliensis) and the "Bärgüf" fundraising association for their financial support of the pilot project.
The next professionally supervised weekend under the direction of Andreas Dörner, Katrin Scheinemann and Birgitta Setz is currently being planned and is scheduled to take place from 13-15 November 2020.
Anyone interested can get in touch with Birgitta Setz by mail: birgitta.setz@childhoodcancer.ch.