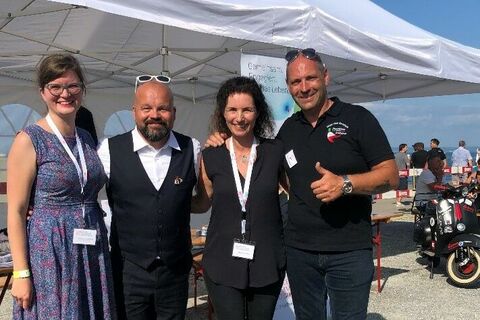 Beaming faces in Rorschach
Markus André Mayer got the ball rolling with his Vespa donation tour "Gentleman Giro": at the Vespa Festival in Rorschach on 12 September, donations of over 1000 francs were collected for Childhood Cancer Switzerland thanks to his initiative – and the great hospitality of the Vespa Club Rorschach. In glorious sunshine, participants from various Vespa clubs met on the Kabisplatz at the port in Rorschach. The president of the Rorschach Vespa Club, Ralph Fontanive, is pleased and proud: the members are always happy to get involved in charitable causes and do so on a regular basis.

This summer, Markus André Mayer set off on the first stage of his "Gentleman Giro" tour, a fundraising campaign for children with cancer. Riding his old 50cc Vespa, he travelled for eight weeks through Germany, Austria, Luxembourg, Liechtenstein and Switzerland. Markus Mayer got support for the fundraising campaign from the numerous Vespa clubs he visited along the way. Find out more here.

Thank you to everyone involved for their fantastic commitment!