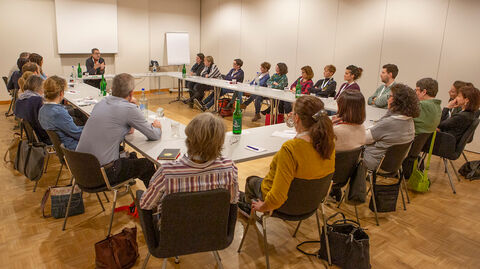 Empowerment through information and networking
On the occasion of International Childhood Cancer Day, the second national Childhood Cancer Conference took place in Bern on 15 February 2020. The conference, organised by Childhood Cancer Switzerland, was aimed at affected families and survivors. The focus was on follow-up care, physical and psychosomatic late effects as well as socio-legal aspects. The compact programme, which offered plenty of opportunities for exchanging experiences and networking, appealed to around 200 participants who had travelled from all over Switzerland.
In order to create a forum where those affected can obtain information and also discuss the current situation in Switzerland with specialists, this year's Childhood Cancer Conference focused on the topic of late effects and follow-up care. The aim was to raise awareness among affected parents and survivors alike as well as to show various courses of action and possibilities for an improved quality of life.
The presentations and workshops dealing with the legal situation of former childhood cancer patients and the topic of fertility and family planning met with a great response. Once again, it became clear how essential complete documentation of the disease and therapy is in order to reliably care for survivors during the transition from paediatric to adult medicine. This is a gap in care that absolutely must be closed. In addition to the transfer of knowledge and the exchange with experts, the participants particularly appreciated the networking opportunities among themselves: "The exchange with people who have experienced the same kind of things I have is worth its weight in gold," was the conclusion of one survivor. More information here.