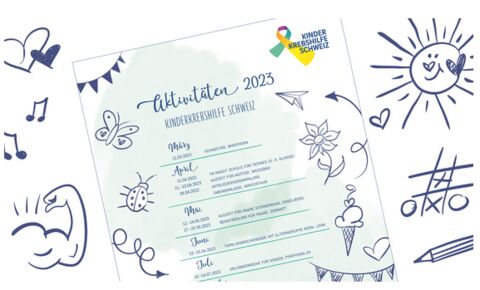 Together we are stronger – offers of support
In 2023, Childhood Cancer Aid Switzerland will continue to provide families with a child with cancer with its tried and tested support services to give them reassurance that: "We are not alone in this difficult situation". 
A diagnosis of cancer causes great anxiety for families – and not only because of the diagnosis itself and what it means for their child. The challenging situation often brings with it financial worries. This is where Childhood Cancer Aid Switzerland can help: directly, fast and unbureaucratically. Affected families are given targeted financial aid and gratefully take advantage of this during the intensive phase. The association works closely with the social services departments of the hospitals to ensure simple application processing.
In addition, the multifaceted annual programme of Childhood Cancer Aid Switzerland offers people of all ages the opportunity to take part in strength-building activities and holidays. The ultimate aim of such programmes is always to give those affected precious moments of relaxation and networking in a loving environment.
You will find more details (in German) on the activities of the member organization here.