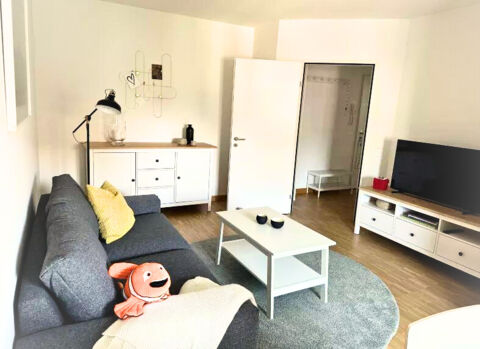 New family apartment close to the children's hospital
In mid-March 2023, we were given notice of the termination of the lease on the 1-room family flat due to a planned increase in the size of the property, which had already been approved by the canton of Basel-Stadt.
We started looking straight away and found a new flat including a parking space just around the corner from the University Children's Hospital Basel (UKBB). The flat, which is more spacious than the previous one with two rooms, offers families 50 sqm of space to relax. And we managed to complete the move in June.
"A move was neither what we wanted nor what he had planned financially for 2023. But we wanted to use this challenge as an opportunity. Particularly for the affected families," says emeritus professor Dr. Volker Dittmann, Voluntary Managing Director of the Foundation.
But, as the old saying goes, as one door closes, another one opens. And even though the move was not planned, we are now happy that we were able to make a new flat cosy and comfy for the families, which, as has always been the case, they can now use free of charge. We can also reveal a small highlight: the house belongs to a larger group of houses and, as you often find in Basel, the residents have a large communal garden at their disposal, which even has a small pool.
The flat can be seen as a compensation for the inpatient stay – a place for recreation and meeting for families who use the flat particularly during longer stays, such as during a stem cell transplant for their child. We hope we have created a small oasis for them that helps them to gather strength.
You will find more details, in German, on the activities of the member organisation here.