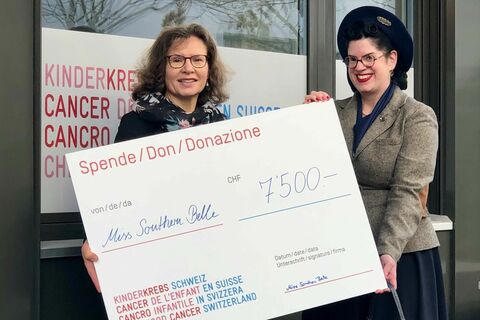 Close to her heart: Miss Southern Belle and Childhood Cancer Switzerland
Monique Bornhauser, alias Miss Southern Belle, loves the 1940s/1950s – and it's obvious as soon as you see her. She lives the style, the fashion, the music and the vogue.
 
For the third time now, she has produced a wall calendar of herself as a pin-up model to be sold. With great attention to detail, in authentic outfits and at original locations, she created a work of art that met with a large fan base. Sometimes it was the yellow plane in the hangar, then a boat on Lake Zurich, in action in a workshop or in the middle of a rape field – Miss Southern Belle feels at home wherever she is and this shows in all the photos! On 11 February, Monique came to visit Childhood Cancer Switzerland in Basel together with her husband Markus. Everybody was amazed to hear from a beaming Monique that all 320 calendars had been sold. Monique will donate the proceeds of CHF 7,500 from the sale to Childhood Cancer Switzerland. We would like to pass on our heartfelt thanks!
 
What is behind this pronounced commitment and dedication? Monique has had her very own experience of cancer. At the age of two, she was diagnosed with a retinoblastoma, a malignant eye cancer. So she knows what it means for a child to go through all the therapies and to be confronted with late effects. She has had her ups and downs, had to fight a lot professionally and despite everything has never lost her engaging laugh, her vitality or sense of humour. Miss Southern Belle is a genuine motivator! In her mind, however, she is already back at the photo shoot for a fourth calendar and thinking about where and in which outfit the best pictures could be taken...