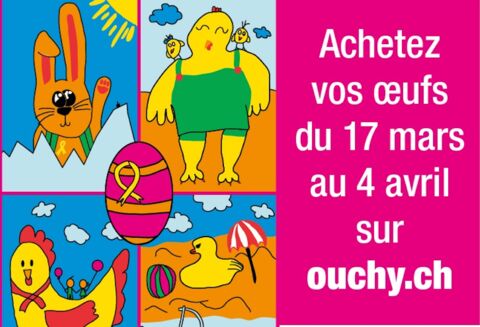 Charity event in Lausanne
The three-day festival is organised with great enthusiasm and dedication by the Société de développement d'Ouchy (SDIO). Passers-by and participants can buy Swiss eggs (for 1 franc per egg), which have been specially hard-boiled and dyed for this occasion, and then put them together to form a gigantic fresco. This is how the famous Easter mosaic is created! The fresco is made using a template based on a drawing by the children who attended the last ARFEC camp. After the event, the dyed Easter eggs are distributed to institutions which support needy families with food.  
All profits generated go to ARFEC and the Foundation Planètes Enfants Malades. This year, for the very first time in its history, the event was carried out in virtual form. On an online platform, visitors could buy eggs to complete the mosaic and thus support both associations. The organising committee had set itself a pretty big target: they were determined to raise at least CHF 100,000. Thanks to the fantastic solidarity and support, they achieved their goal. What a fantastic success!