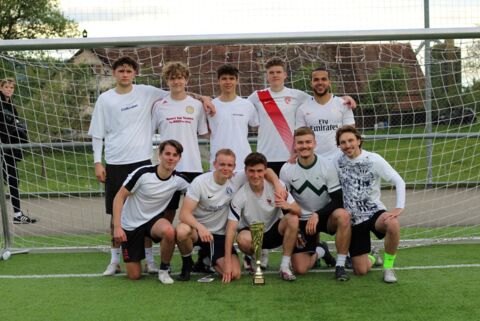 Three thousand Swiss francs raised in football
"On behalf of the Happy Feet team,  I am very proud to be able to announce that over the course of the entire event we have collected CHF 3,000 for Childhood Cancer Switzerland! Thanks to the great support of our Board, our helpers, the University of St. Gallen and the Childhood Cancer Switzerland team, this event was a complete success," says organiser Nathan Ducrest, summing up this year's "HSG World Cup for Charity".
Since 2020, the non-profit organisation "Happy Feet" has been organising football camps for children and adolescents in Coppet in the canton of Vaud, Switzerland. All proceeds are donated to charity. "Happy Feet" consists of 19- to 21-year-old students from the University of St.Gallen (HSG) who are passionate about football, want to hand on their passion to children and adolescents, and have set themselves the goal of making a difference in the world. In 2022, the "HSG World Cup for Charity" was brought into being – a football tournament at which donations are collected for a good cause.
We would like to express our heartfelt thanks to all participants, helpers and organisers for their great efforts!