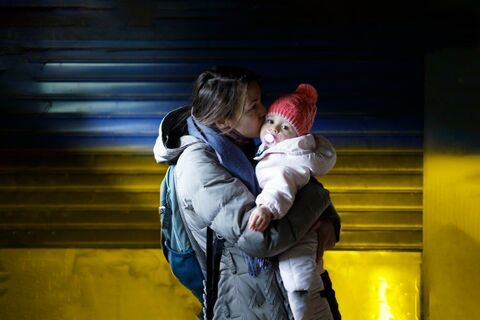 Help for children with cancer from Ukraine
Several million people are currently fleeing the war in Ukraine, including many children and adolescents with cancer whose therapy in the crisis area has had to be interrupted. Without treatment, their chances of survival will decrease rapidly. Childhood Cancer Switzerland is part of a solidarity chain that is bringing affected families to Switzerland so that they can continue to be cared for here.
Every year, approximately 1,600 children and adolescents are diagnosed with cancer in Ukraine. However, their treatment is no longer guaranteed due to the current war. As if being displaced from their homeland was not bad enough, children with cancer now cannot be sure they will receive the therapy that is essential for their survival.
Various organisations have joined forces in an international relief operation to get these young patients and their families out of the crisis area as quickly as possible so that they can receive further treatment in hospitals in other countries. Switzerland is one of the countries that has agreed to take in Ukrainian children with cancer who need inpatient or outpatient therapy. Those affected are given the chance to continue their treatment in specialised clinics and their families are accommodated nearby.
At a national level, various organisations and hospitals are working hand in hand in this relief operation. Alongside Childhood Cancer Switzerland, these include the French-speaking Swiss organisation Zoe4life, the Ronald McDonald House Charities, the Swiss Society for Paediatric Haematology and Oncology (SGPHO) as well as nine specialist children's hospitals. Zoé4life organised the transfer of the patients from Poland to Switzerland and is guaranteeing both financial and logistic support.
This made it possible to fly 17 Ukrainian children and their relatives from Krakow to Geneva in the second half of March. Childhood Cancer Switzerland clarified the needs of the arriving families locally and coordinated their accommodation near the particular hospital. Together with our member organisation ARFEC (the Western Switzerland Association of Families with a Child with Cancer), which had quickly and unbureaucratically organised clothes and shoes for the refugees, we were able to receive the families in Geneva after several days spent fleeing from Ukraine.
The solidarity was overwhelming, particularly when the magnitude of the challenges in this exceptional situation are taken into consideration. There were many questions and uncertainties that made precise planning difficult and therefore required a lot of flexibility. Until they arrived, no one knew exactly what the children's state of health would be, how many people would be accompanying them and whether they would be able to be transferred to the respective hospitals on the same day. But the close cooperation of all the stakeholders paid off: "After this intense weekend, we are very pleased that the families are doing well under the circumstances. We were over the moon when we heard that one of the young patients was already smiling again by Tuesday while walking in the park," said Zuzana Tomášiková, Head of the Childhood Cancer Switzerland competence centre for survivors.