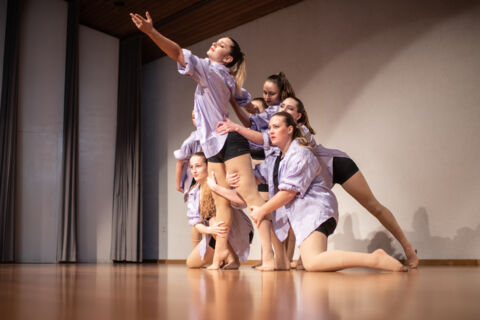 Further thrills at the JV Dance Studio dance spectacle
It was a weekend of a special kind. Last Saturday, 28.10.23, the JV Dance Studio staged two impressive performances in Pratteln in front of more than 800 guests to once more collect donations for Childhood Cancer Switzerland. The 200 dancers thrilled the audience and touched the hearts of everyone present.
An impressive total of CHF 8,500 was raised in the form of donations at the two sold-out performances entitled "Dance for Childhood Cancer Switzerland". The JV Dance Studio in Pratteln had already collected money at a spectacular dance marathon for children with cancer just one month earlier. In this way, almost CHF 12,000 have been raised overall in donations since September for children with cancer, survivors and their families.
This impressive sum of money is down to the commitment and passion of the studio members, teachers and supporters of the JV Dance Studio. Their commitment to a good cause was immense. And last but not least, we would like to pass on our heartfelt thanks to the generous sponsors who gave their financial support to these great fundraising events.
Only together can we make a difference. The donations help to improve the lives of young cancer patients during and after the disease and to further advance childhood cancer research.
Photo: Fotoharmonie Rebecca Schaub