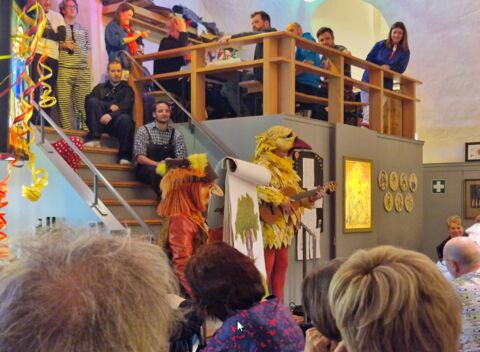 Ditty writers in top form at the benefit evening
These fundraising events are organised by supporters on their own initiative for the Basel Region Childhood Cancer Foundation. The first highlight this year took place in February – a benefit evening focusing on the subject of ditties. 
The idea of the foundation: to enjoy the best simple ditties just before carnival time and to support people from the region who are committed to children and adolescents. A fantastic idea that was made all the better by a number of top-class ditty writers joining in. The following even waived their fees in favour of the Foundation:
·         Dr Heiri
·         D Brunzguttere
·         Dr Singvogel
·         D Dreydaagsfliege
·         S Dintelimpli (for the injured Hansli Bargäld)
·         D Spootschicht Rhygass
·         D Schnaabelwetze
The audience loved every minute and the ditty writers were in top form. Even Paul Castle, Vice-President of the Foundation, presented the activities of the Foundation in verse and earned great applause. Together they enjoyed a fun evening with small snacks and fine drinks served by the Foundation's team of helpers.
The proceeds of the evening will go entirely to the families. The Foundation is grateful to all those involved for their fantastic commitment. You will find more details (in German) on the activities of the member organization here.