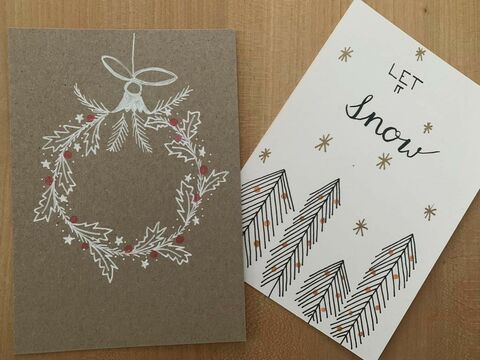 The fun of Christmas crafts
In normal, everyday routine, there is often not much room for the subject of childhood cancer and its late effects, and it is not the easiest of subjects to talk about anyway. This is why Childhood Cancer Switzerland regularly offers low-threshold networking opportunities for survivors. These meetings are an ideal opportunity for survivors to exchange ideas with each other, join in activities together and get to know other people affected by the disease on a relatively informal basis.
During a creative online workshop on 19 November 2021, the participants had the opportunity to design attractive Christmas cards in handlettering under the professional guidance of lettering expert and advertising painter Sibylle Born. The result? Small works of art which were created thanks to the valuable tips and tricks of the course instructor and the creativity of the participants. The creative event was a great source of fun for everyone involved, as well as giving them the opportunity to share experiences.