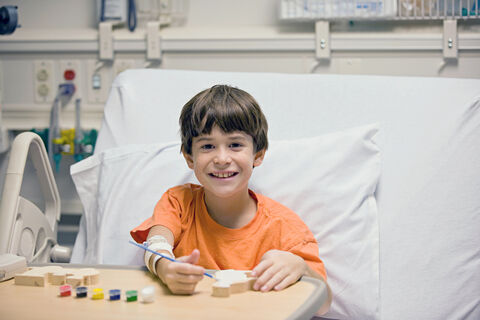 International Childhood Cancer Day
The International Childhood Cancer Day will take place on 15 February 2021. As part of this worldwide event, the umbrella organisation Childhood Cancer Switzerland will be drawing attention to the situation of children and adolescents with cancer in Switzerland. Here, there is still one child dying of cancer almost every week and of those who survive, around 80 per cent suffer from the late effects of the disease and therapy. There is still a great need for socio-political action in the area of childhood cancer.

In Switzerland, around 300 children and adolescents are diagnosed with more than 60 different types of cancer every year. Although four out of five survive the disease thanks to medical advances, every fifth child still dies. Cancer is thus the second most common cause of death among children and adolescents – after accidents.

Childhood cancer research in financial straits
 
Childhood cancer is different from the cancers that occur in adults. Specifically tailored research is essential in order for children with cancer to be treated optimally and for the late effects of therapy and disease to be reduced. However, this is less lucrative for the pharmaceutical industry than research into adult cancer, which means that it is almost exclusively paediatric oncologists who drive paediatric cancer research forward at specialised children's hospitals. Government funding, however, is far from sufficient, so paediatric oncologists are constantly forced to rely on donations and third-party funding to give every child access to the best possible therapy and to minimise the late effects of intensive therapy and the disease itself. "This responsibility cannot rest solely on the shoulders of paediatric oncologists. If we want to continue to treat children with cancer in Switzerland with the best possible and most modern therapies, research urgently needs better financial support," says Valérie Braidi-Ketter, CEO of Childhood Cancer Switzerland.

Cancer therapies for children: no obligation to cover costs

Most of the drugs used to treat children and adolescents with cancer are actually only approved for adults. Therefore, health insurance companies are not obliged to cover the costs of treatment for children. To date, they have often been very accommodating, but there have been many occasions when survivors have been informed that they will not be reimbursed for some of their drugs and that if they are, only with a lot of effort, which can be extremely stressful for parents and children. This problem will continue to increase in the coming years. For example, children have long been treated with medicines that have been on the market for decades and are therefore cheaper for health insurance companies than adult medicine. Thanks to medical advances, children will also increasingly have access to more modern therapies. Personalised medicine and immunotherapies are already the treatment of choice for certain paediatric cancers. "Their use will certainly increase in the coming years, and that will be accompanied by rising cost pressures," says Prof. Nicolas von der Weid, paediatric oncologist and President of Childhood Cancer Switzerland.

Gap in care for pain therapy

Children who have cancer often suffer from severe pain and need the best possible pain therapy. It becomes all the more urgent when they need palliative care in the last weeks of their lives. Until now, paediatric oncologists could rely on a very efficient painkiller, the production of which has now been discontinued. There is no alternative drug that could be used in young children. Not many people know that the majority of cancer patients are infants under the age of four, so this gap in care affects the smallest and most vulnerable patients. Without this medication, they have to suffer severe pain, be treated with a complex painkiller pump or stay in hospital for much longer. Together with paediatric oncologists and other partners from the health sector, Childhood Cancer Switzerland has called on the Federal Office of Public Health (FOPH) to urgently find a solution to this problem. "The federal government's room for manoeuvre is generally limited when it comes to the provision of medicines and this is something that was desired by the legislator," says the FOPH. A statement that has serious consequences for the children affected.
International Childhood Cancer Day, on 15 February 2021, highlights the major challenges that children, parents and former childhood cancer patients still face. In Switzerland, it is now a matter of setting an important socio-political course with regard to better research funding, the reimbursement of all medicines necessary for treatment and the best possible pain therapy. This is the only way to ensure that all affected children and adolescents have access to the best possible treatments. This is what Childhood Cancer Switzerland is working for.