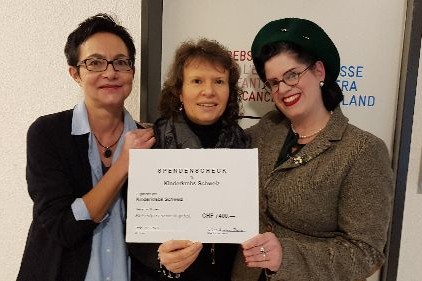 Thanks to Miss Southern Belle
It is immediately obvious that Monique Bornhauser, aka Miss Southern Belle, loves the 1940/50s. She lives the style, the fashion and the music. In the November 2019 newsletter, we reported on Monique's wonderful idea to produce a calendar of herself as a pin-up model.
With great attention to detail, in authentic outfits and at original locations, a work was created that has found a large following. At the beginning of February, Monique came to visit Childhood Cancer Switzerland in Basel. We were both surprised and excited when she announced that she had already sold all 320 calendars. Monique is donating the proceeds from the sale, an amazing 7,400 CHF, to Childhood Cancer Switzerland. We would like to send a big thank you to Monique –an inspiring woman with a big heart!