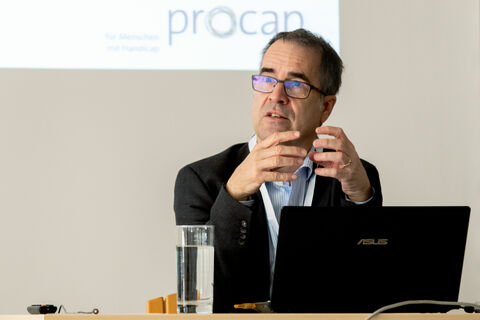 Legal consultation service - a pioneering pilot project
When a child is diagnosed with cancer, the parents concerned are suddenly confronted with socio-legal questions. For example, when it comes to supplementary benefits, registration with the invalidity insurance (IV) or a helplessness allowance if the child regularly needs help with everyday activities. And even after successful therapy, the life of the entire family can change permanently, depending on the severity of the disease and the late effects, because schooling and/or professional perspectives may have to be reconsidered. The Swiss social security system is very complex, and parents and survivors, some of whom do not know what help they are entitled to, often feel overwhelmed and abandoned. In order to remedy this situation, Childhood Cancer Switzerland developed two services in 2021 that provide those affected with professional help on key social security and work-related issues.

A pilot project initiated by Childhood Cancer Switzerland of having a legal consultation service at the University Children's Hospital Basel (UKBB) was launched in April 2021. The free consultations are aimed at parents with a child with cancer or with a survivor not yet 18. They take place in collaboration with the psychosocial team and a legal expert from Procap, the largest self-help organisation from and for people with disabilities. The service contributes to the further expansion of multidisciplinary follow-up care at UKBB and to highlighting possibilities for action that go beyond purely medical aspects. The project partners are our member organisation Basel Region Childhood Cancer Foundation, Regio Basiliensis, and UKBB.
 
In parallel with this pilot project, Childhood Cancer Switzerland launched a further legal advice service in summer 2021 together with Procap. This free offer is aimed at adult survivors and/or their parents and takes place independently of the UKBB. In this way, Childhood Cancer Switzerland is also fulfilling the frequently expressed desire for professional, legal advice for adult survivors. For more information on both services, please contact the Childhood Cancer Switzerland's Survivors' Centre at
fachstelle-survivors@kinderkrebs-schweiz.ch.