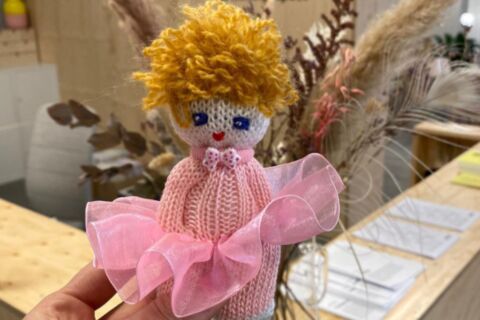 Knitting for a good cause
Tadah, the online magazine for parents and Switzerland's first coworking space with childcare, based in Zurich Albisrieden, launched a fundraising campaign in aid of children with cancer during the Christmas season. Sylviane Steiner, the Tadah grandma, spent an incredible amount of time knitting. The result: more than 100 dolls with their own names, which were sold to coworkers and followers for 10 Swiss francs each. The knitting campaign made over 1000 Swiss francs, with Tadah donating the sum in full to Childhood Cancer Switzerland. We would like to take this opportunity to thank Sylviane and the entire Tadah team for this fantastic idea.
Tadah also supported Childhood Cancer Switzerland in its awareness campaign "Siblings in the shadows". With its slogan "empowering parents", the online magazine publishes topics on the compatibility of work and family. The moving interview with an affected mother who describes what the diagnosis of cancer for her youngest daughter meant for the whole family was also written with this slogan in mind. Find out more here (in german).